Please open the image in a new tab, to see the whole 7k resolution
Hi, let me introduce you to Maximus – the mole
Profession and characteristics: professional drummer and musician. Full-time hipster from head to his vans.
---
Construction Planes
The base concept for this character was designed by Florian Kempf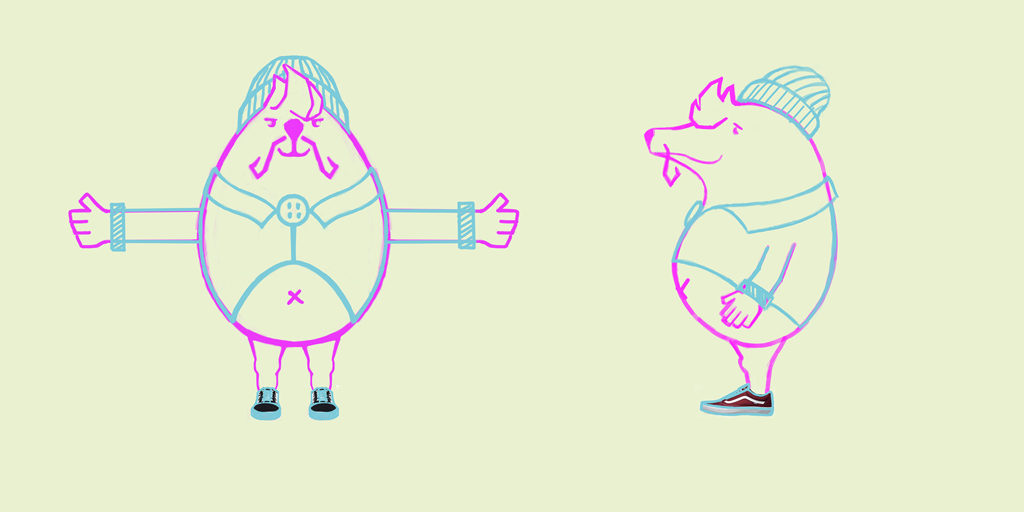 Subdivided 3D Model and basic Rigg
His little screen time and his overall little movements in the movie required a simple and basic rig. He got IK based legs and FK Based arms (including twist-bones). His spine is an IK-FK mix.
The rig is scalable and has a face-rig that controls some basic blendshapes of his face, eyes and mustache.
Project Description
The character of Maximus the Mole is part of the student 3D/2D short movie Fin the Flamingo from the Media University Stuttgart.
Maximus is a full-time Hipster that has a passion for music and good sounds. He plays the drums and is part of a band with the main actor of the movie.
I've been asked to create a simple rigged character for Maximus, so I took the chance to go a bit further in the production pipeline. Additionally to the 3D model I did here my first basic character body rig. The face-rig has been added later by another team member. The whole movie was rendered just with simple and changing shaders to get an interesting 2D look.
After finishing my part, I realized how much potential Maximus got. So decided to go the extra mile and do some texturing and rendering on my own.
It was my goal to give him some simple fur in an overall mix between realistic and stylistic looks and feels in a simple setting.
So for this project, I learned Substance Painter and lighting/shading in Arnold for Maya 2017.
Please make sure to see final comped rendering in full resolution (open in new tap).
---
Project-Type: 3D Modeling, Rigging, Lighting, Shading
Tools Maya, Illustrator, Substance Painter, Photoshop, Arnold
Project Year 2016