Its been a while, I think more than 5 years now, since my first visit the Viscom trade fair in Düsseldorf. Between then and now the fair itself becomes noticeable bigger and more professional.
Even this time the Viscom was full packed with interesting companies that work within and around the communication industry. For me, who did in the past a lot of analog design mainly in the print and display
area, it's always fascinating to see how the improvements in technology lead to more better production ways and interesting final products.
The visit definitely provided me a lot of inspiration and insights which I gonna use for some own products or different customer demands. Furthermore, I came across some interesting companies and potential clients with which I hopefully envolve someday in a good partnership.
Talks and Presentations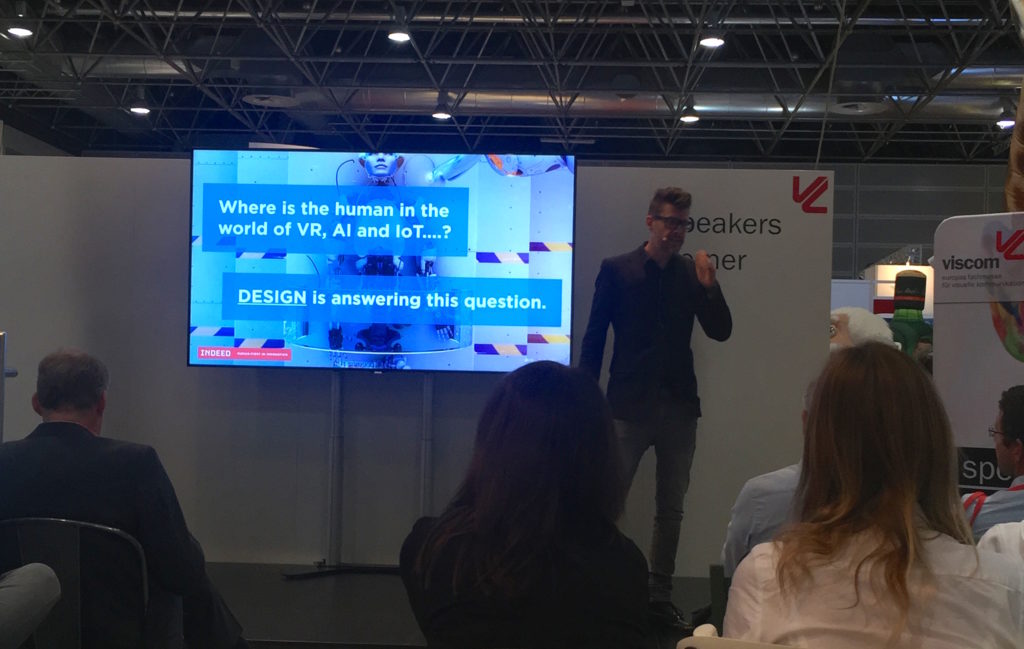 One of the reasons why I wanted to visit the Viscom, was that they now hade a nice presentation programme with some good speakers.
Especially the presentation "Design im Zeitalter von VR, KI, IOT" of Heiko Tullney, was really great. I really liked the human-centric and problem-solving vision of him and his agency Indeed.
I could totally agree with his view in the importance of putting the human in the center of the design. Therefore I based the interaction possibilities that I write about, in my Bachelor-Theis, on the capabilities of the human itself.
Another grate Talk, that I really enjoyed was "Digitale Transformation: Wie surfen Marken erfolgreich auf dem digitalen Tsunami?" from Bastian Schneider of Hotz Brand Consultants in Switzerland.
In total, I would say that the Viscom 2017 was a success and I definitely gonna visit the next one in 2019.